"Stop trying to make me fuck humans, it is gross and I won't" geekandmisandry chimes in as comment to an original post by Argumate from June 23, 2019 (figure 11). The correspondence takes place on Tumblr. It is that special kind of online self-identifying, in which the irony becomes so layered that sincere sentiment somehow emerges from it. The (imaginary?) deselection of romantic relations with humans is represented in a lot of material on Tumblr. Users might not formulate it as a direct disgust of humans, but as an attraction to the non-human or monstrous. Some of these users proudly admit to being monsterfuckers. They warp pop-cultural imagery to express their excitement for various antagonists, beasts and ghouls—placing themselves in the experience of the damsel being ravaged by, or the knight being seduced by, the dragon.
In the incredibly popular monsterfucker ship Symbrock, depressed justice-seeker and human hunk Eddie Brock is paired with the toothy extraterrestrial "symbiote" Venom. I hesitate to name the romance a slash ship, since it would be a stretch to gender Venom as male. Canon dictates that Venom's body is amorphous, like thick glue, and they assume the shape and gender characteristics of whoever hosts them. However, when Venom is depicted in their own form in fan-art, next to or outside of Eddie, they are often presented as a bulky, hyper-masculine creature. Venom is typically depicted as twice the size of Eddie, who himself possesses a rugged, conventional masculinity. The desires embedded in Symbrock fan-art are obviously homoerotic, however abstracted by the literal fluidity of Venom's body.
Symbrock erotica plays on the blurring of distinctions. On one hand there is the inside relating to Eddie: the human, the self, the rational, the conscious. This is where the audience resides and waits for events to happen. Then the franchise presents the outside, quite literally the extra-terrestrial, the costume, the hunger, the desire. The fan-art depicts moments when the two collide and blend: outside comes in, self becomes other, rationality is willingly given over to mindless desire, repeatedly. The limit between their bodies is transgressed violently as they make love. Venom's meter-long tongue doubles as necklace and grip. Venom's mouth wraps around Eddie's face like a mask as they kiss. Venom's liquid body wraps around Eddie's stomach like rope that restrains, embraces, releases, caresses—and ends somewhere we don't see and can only imagine. Somehow it manages to be heavily explicit pornography without being genital. In simple words, humanness is being fucked.
In Symbrock erotic fan-art, Eddie is generally the one penetrated, assuming the submissive role—a loyal bottom. Let's indulge and investigate what that could mean. When the "top" in a sexual relationship is an amorphous alien without gender, we need to understand the bottom in the broadest way possible. The following definition is borrowed from the essay draft "Did Sissy Porn Make Me Trans" (2018) by Andrea Chu Long, and is offered as an extension to "bottom" simply naming who is penetrated by whom. "By bottoming, I mean what happens when someone or something else does your desiring for you(…)Too often, we imagine powerlessness as the suppression of desire by some external force (maybe someone else's desire), and we forget that desire, in itself, is often, if not always, an experience of powerlessness." According to Long's definition, the top can often not be a person, the top can be immaterial. For example, she argues that there generally is a pacifying quality to pornography: porn is the top, you as a user are the bottom, porn takes the reins and makes you act out a desire that it seeded in you. This image is suddenly mirrored perfectly by the image of Eddie's body both engulfed and entered by Venom (figure 12 and 14): "Desire is talking. It says to bend over." The text proceeds to investigate how notions of bottoming are inherently feminizing and to which degree it's tied to humiliation as a fetish. Consequentially, it questions how some pornography reproduces the idea that femininity itself is humiliating. I want to propose monsterfucker fan-art as a sort of safe haven for depicting the bottom, then. They are imaginaries where you can be submissive to something you dream up yourself, something shapeless or beastly and queer. In images like these, the bottom becomes less of a gendered "sissy", because they are not necessarily contrasted by a normatively masculine, or gendered, figure. The bottom is overtaken by a monster, whatever we desire that to be.
I believe it would be missing the point to understand monsterfucker-images purely as a masochistic kink-project, where the viewer gets off from seeing their human representatives obliterated in ecstasy under the weight of a big bad thing. It is more elaborate than just fetish, even though it fetishizes, because it is so narratively extensive. The frequent use of speech bubbles, comic strips and image captions makes monsterfucker fan-art a practice of storytelling. A horny train of thought, materialized with a digital brush, will often branch out into entire universes, eventually to be adopted by other artists. Which stories are they contributing to? How is the fan-art and fan-fiction different from the original canons, from which they sample their characters?
Let's return to Symbrock as a starting point. The plot of Venom was in fact already loaded with homoromantic subtext, even before the fan-artists had their way with it. In the earliest comics Eddie refers to Venom as his "other" and at times "love" and "dear", and says sentences like "the symbiote make me feel things that no woman could". Symbrock is canon! Hence, there is lots of material for the monsterfuckers to go crazy over. It explains why Symbrock is jokingly mentioned as a gateway ship, the entry point for many baby monsterfuckers: "Me: I've loved venom since I was a kid I'm not a monster fucker that's gross; Me, watching venom catch a smoke bomb in his mouth: ohH fUCk" However, the 2018 film adaption, which most of the Symbrock fan-art is referencing, suddenly focuses on the moral arc of both Eddie and the Symbiote halfway through the film. Thus, it shifts the story away from their relationship to each other. Just as Venom is established as a superior species unbothered by human scale and ethics, only driven by his insatiably hunger, he is somehow inexplicably neutered. Suddenly, he cares. Mel Y. Chen writes about animal figures either as neutered or feral: "The notion of feral also brings up ambivalent identifications with anti homes, since it both rejects the domicile and reinvigorates a notion of public shelter (…) Indeed, the homed feral figure also appears in my text as the sign of a biopolitical (nationalized) demand for population control". Without the romance and sexual desire between the characters made explicit, Venom simply submits to Earth's order as some sort of fatal consequence. He transitions from feral to neutered just because. Mel Y Chen's mention of neutering as population control also resonates with Venom's fate: he agrees to only eat the bad guys, not to mess with the balance of human existence, and he ties himself to one home, on Earth with Eddie. On top of that, he agrees to act as wingman in getting back Eddie's human girlfriend. Domesticity is saved!
However, Venom hasn't necessarily grown a conscience in Symbrock fan-art as opposed to in the film. He is just in deep, selfish, passionate, horny love with Eddie Brock. And if Eddie depends on Earth to survive, to stick around as his boyfriend/vessel/fuck-toy means that Earth will be spared by Venom. The fact that Venom's feral nature stays intact in these images, allows for Eddie to be depicted and identified with as equally desire driven and non-rational.
Disregard of a moral arc in stories is a recurring trait in monsterfucker fan-art. It doesn't make much sense to talk about moral development when the characters are plucked from their linear storyline and placed in endless loops of love and lust. Remembering the image (figure 8) of Prince Sidon and Link embracing each other in the water's surface, none of them look like they are about to save any innocents or restore order to the world. They are made to look content—and occupied! The illustrator and highly productive fan-artist Camille Cailloux, username FlyingRotten on social media platforms, goes deeper into this theme and actively uses the amorality as the basis for her character "The Hedonist" (figure 16). The character was first introduced with the captions: "The Hedonist is a strange creature who indulges in ALL the pleasures life could give. (And that includes terrible stuff such as KILLING)(…) He's also free of human moral so don't even try to tell him that what he's doing is wrong. He'd laugh and prob eat your eyes." In Camille Cailloux' gapingly porous universe, The Hedonist gets to be the monster that Venom doesn't. He is a beast that acts according to his desires always, however contradictory they may be, and obviously, an object of contradicting desires as well: to be held, to be eaten, to be wanted, to be wasted…
The Hedonist shares his facial features with many of Camille's characters: those of actor Mads Mikkelsen. The following are excerpts of an interview with Camille Cailloux/FlyingRotten conducted by me on her fascination with Mads, how it informs her art and her opinions on the distribution of sexually explicit art online.
FlyingRotten:
Ah, MADS. Honestly before Hannibal (NBC series, 2013) I had no idea who the guy was lmfao (abbr: Laughing My Fucking Ass Off). I immediatly fell in love with the strange features of Mads Mikkelsen, his face was completely inhuman. Full of sharp angles, skull, eyes, full lips… I started to draw fanarts because i wanted to draw his face more than anything, haha.
The Hannibal fandom made me ship other Mads characters with Hugh's characters. I don't know how they managed that. Like, you pick that Mads character from this movie and let's ship him with this Hugh's character from another movie LOL (abbr: Laughing Out Loud). When Men & Chicken (film by Anders Thomas Jensen (Mænd & høns, 2015)) came out, I fell in love with Elias, played by Mads Mikkelsen. Like, deeply in love. So, I looked for ship with him and someone had written something about Elias and Adam Towers—played by Hugh Dancy in the movie Basic Instinct 2. Adam Towers has like, a very minor role in the movie so we don't know much about him but we created a personality and all that shit, so we can ship him with Elias. It gave the name of the ship Basic Chickens: a mix up between Basic Instinct and Men & Chicken. I drew them a lot. Normal at first. Then I turned them into anthropomorphic creatures.
My Basic Chickens art and head-canon are basically how I'd love a relationship but because I don't wanna suffer IRL. (abbr: In Real Life) I just imagine it. There's LOTS of Basic Chickens AUs (abbr: Alternative Universe) now. There's not only the Minotaur version, there's also the Summer Love AU, the Hangman and Minstrel AU… etc. There's not one universe for them in my head, they could exist in any universe, any situations I could imagine.
Me:
What do you mean, you don't want to suffer IRL?
FlyingRotten:
I had lots of… bad experiences IRL. I find it safer to just fantasize and I'm actually not frustrated in any ways doing that. Friends are super important for me IRL. As for romance or sex… no thanks. I love to imagine it, draw it, but I don't wanna live it IRL anymore.
Art could be a good benefit for people. I drew very trash stuff when I was with my ex because I was abused. And this was a way of expressing my pain without hurting anyone IRL. A way of gaining control again.
Me:
But today, I don't see a lot of these themes you mentioned earlier, non-consent and so on, in your work.
FlyingRotten:
Nope, because I don't need to draw that now. I took control back.
Camille Cailloux goes on to describe being kept awake at night by the rush of ideas in her mind, of scenarios where these familiar faces can play out the unfamiliar. Her practice, giving her a substantial following and recognition from fans and illustrators online, is becoming an intricate tapestry of imaginaries: diverse roleplays of transformative personalities, power relations, gender expressions, and species. She strongly insists on her right to fantasize without constraints, moving to whichever platform is not censored yet. At times, she depicts violent sex to the level of gore, only to next contradict it with teary eyed scenarios, delicate snuggles in flower crowns: same faces, same names, desires originating from the same person.
The artist Eugenio Vidal, Dracowhip on DeviantArt, also creates works from fantasies that need several universes to play out. The characters who inhabit his gallery are tall, muscly females, rock hard thighs bulging with force and agency. Most times they are contrasted with a more fragile character, like a smaller woman or a generically skinny man in a shirt. The dominant females in Dracowhip's art are fluidly depicted as human, alien, reptile, furry, feral and domesticated.
Dracowhip:
I realized it had to do with the natural sensuality of certain creatures and how the anthropomorphic version could represent that. Like a symbol …a token of some kind. Something not possible…like a forbidden fruit that never could be touched, except by the fantasy. I applied that to the "Alien"(from the film series Alien, first by Ridley Scott, 1979) and "Predator"(from the film series Predator, first by John McTiernan, 1987). Who could find those creatures sexy? But I did and I think my versions appealed to many…at least, I hope so.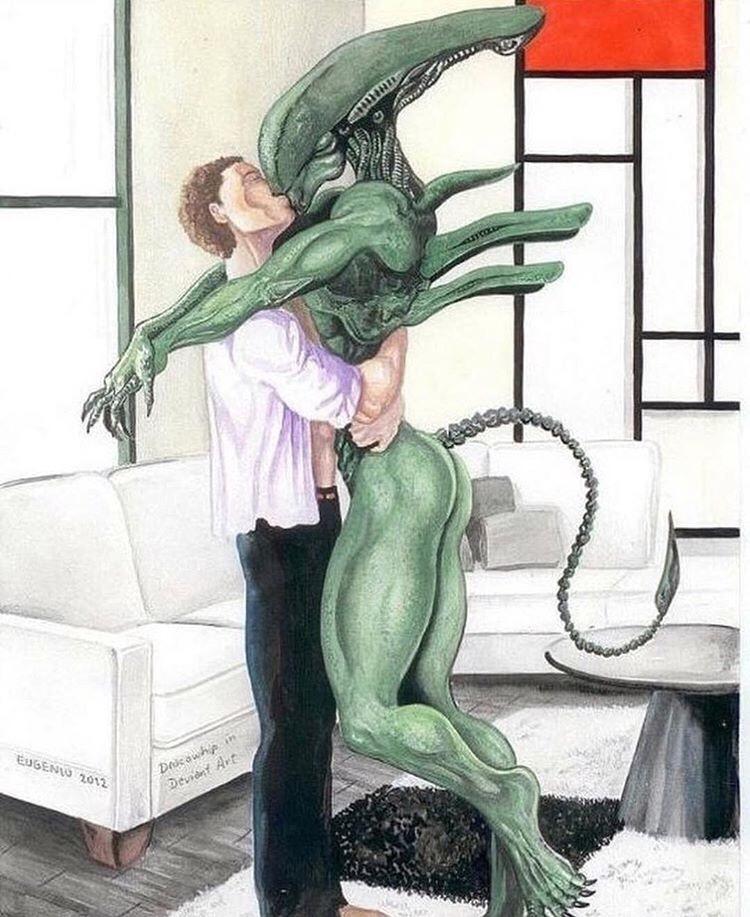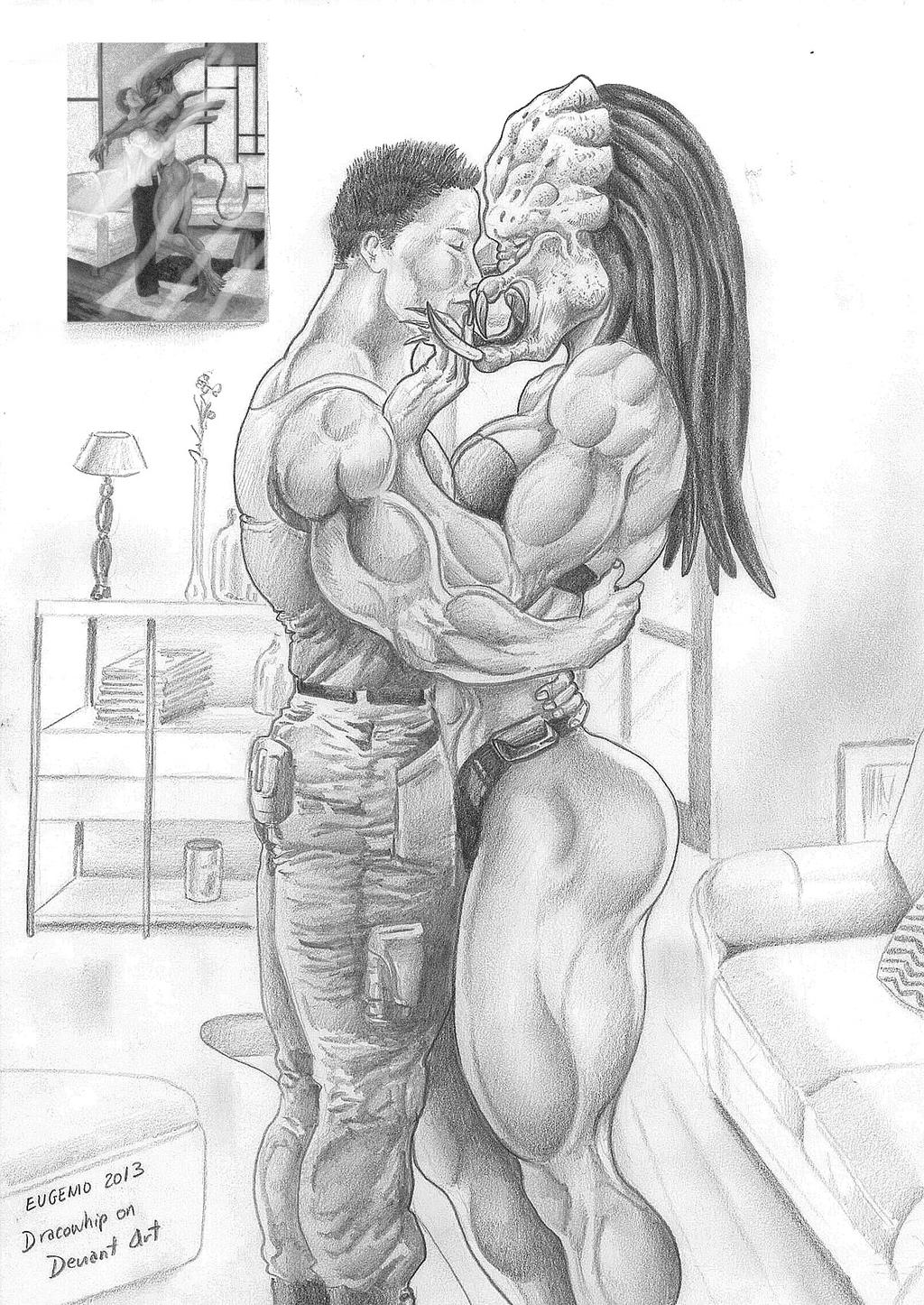 Dracowhip has around 24.000 watchers on his DeviantArt page and nearly 333.000 page views. Their excited remarks in the comment section under his work suggests a supportive and loyal base of admirers, often engaging in writing additional, collective fiction to the images. "Me at Area 51 when I find out alien women are more loyal than these Earth-hoes", TheAncientWafl writes in a comment from July 13, 2019 on Dracowhip's work Forbidden Kiss: Xeno Girl. Somehow, the comment echoes the hurt expressed by Camille Cailloux when explaining why she lives out her sexual desires only in her art. TheAncientWafl's comment, however, is misogynist in a way that I find hard to dismiss. I brought this up in my conversation with Eugenio Vidal/Dracowhip.
Dracowhip:
Well… maybe girls have been a bit too hard on the poor dude…hehe. But seriously… I think some people are eager to discover new emotions, something more challenging and maybe have no idea how to…except in fantasy…and some frustrations could arise too. If I could do something to make people fantasize, in a healthy way, well… I think I'm doing cool hehe.
I think everything can be done in fantasy, and not all that is good, unfortunately. My ladies are intended to give fun and joy in a fantasy setting, there are even many ladies who enjoy my girls and are followers. They see them as funny characters. Of course, you can't control people and there are many out there that have twisted ideas.
Eugenio consistently explains his work in the same laidback manner. He is unbothered and simply into buff women, also scaly ones. He fails to recognize his female followers as possibly viewing his work with erotic desire and not for amusement, despite the high amount of lesbian love scenarios in his gallery. However, there is no doubt that his own intent behind the art is to depict "feminine force" as physical strength (transubstantiation), because that is appealing to him. With every fantasy, and therefore also every image, there may be a displacement between intent, reception and use.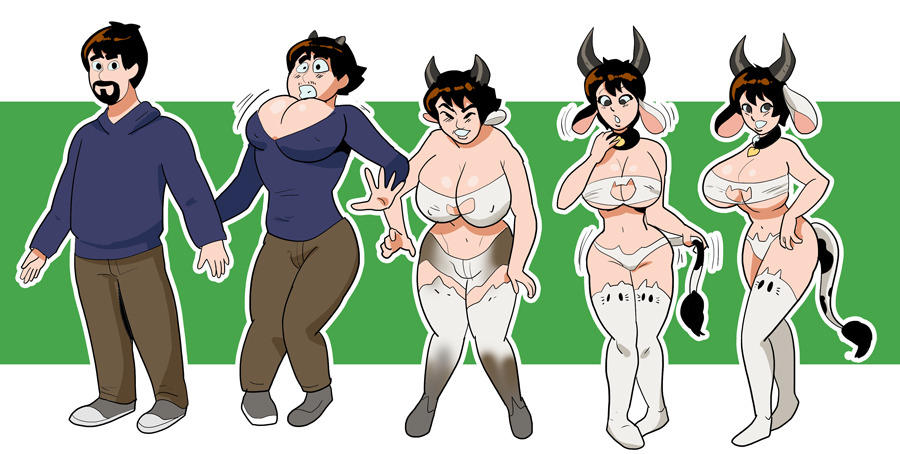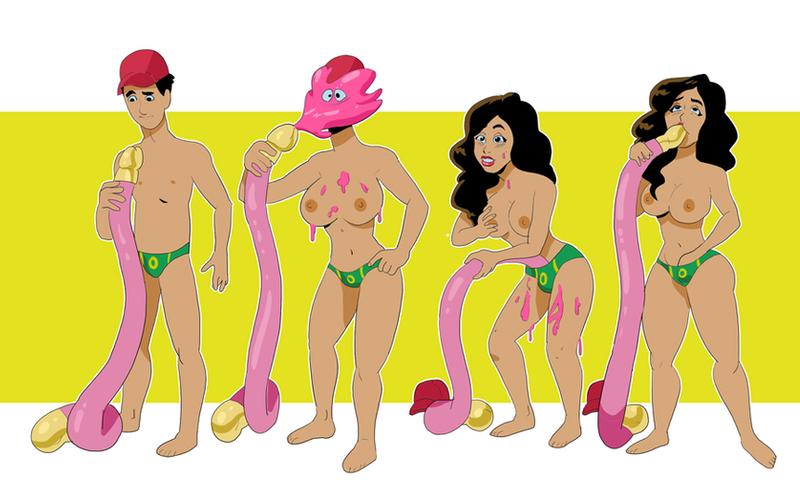 The Deviant Darkoshen works with both his own and others' fantasies when he creates. He does not necessarily extend the universes of his characters after they are portrayed for the first time, and he does not work with typical monsterfucker-references. However, transformative bodies and queer, interspecies existence and sexuality are his key motifs. Darkoshen introduces himself as a maker of tg/tf art (transgender/transformation art).
Darkoshen:
My General Audience is mostly fetish fanatics who commission me to create art for their enjoyment. They might fantasize about changing gender and transitioning in real life but their circumstances might not allow them. Or they just like to see Mickey Mouse (cartoon character created by Walt Disney and Ub Iwerks at the Walt Disney Studios in 1928) turn into a hot bimbo, and vice versa, because that's what gets them off.
Me:
How do you deal with depictions of consent, and non-consent, in your art?
Darkoshen:
Consent is a slippery slope in regards to tf/tg art. There are people who turn themselves into other beings in their own terms, usually randomly or by an artifact. They might just change form or change mentally as well. This is usually known as "character death" since the original person is gone and replaced with another being.
In my pieces, when people who commission me they often include themselves in the mix. They might project themselves into the character on the page that turns into a princess and marries a buff prince. But they are not princesses and there's no prince, it's just an idea in their head that fills them with happiness. Transforming a man into a woman by the flick of a brush tool is fantasy. Fantasy by definition is imagining things that are impossible or improbable. I make those fantasies come true through my visuals. Isn't it all right to fantasize for a bit?
The image of a masculine figure turning into a female one has different names and search words online. If he is transformed into a sex-crazed blonde with big tits typically in a thong and needle-sharp stilettos, it is called bimbofication. Another kink surrounding such transitions is sissy porn, both referring to the feminization/castration of the viewer as well as the actor or character. It is the same genre that thematically opens the previously referenced text by Andrea Chu Long, "Did Sissy Porn Make Me Trans". If we again turn towards Long's definition of a bottom, then the art by Darkoshen is related to the fan-art of monsterfuckers. Even though Darkoshen's images often don't depict a sexual situation between two or more creatures, the character is being subjected to the desire of something outside itself; some external actor transforms not only its body but highjacks and changes the character's own desires and behavior. The depicted subject is pacified, even when it isn't feminized—which it is in most cases. Once more, the subject we are left to project onto is a bottom. Again, "Desire is talking. It says to bend over."
It is now established that the medium of fan-art offers a stage for the monsterfucker to materialize, the ones who bottom for imagined beasts and despicable creatures. Their narratives are afterwards available to be built upon through reblogging, copying and collective imagining. As testified in the interviews by FlyingRotten, Dracowhip and Darkoshen, the drive behind the monsterfucker fan-art (and its relatives) is to give form to fantasies, both as escape, communion and to get off, not to get closer to a true representation of any existing reality. I want to proceed by investigating how the positive effects of these images go beyond the value of representation—beyond it being enlightening to see yourself get fucked by a beast every once in a while, and to learn that some people just like that stuff. The question then becomes what are fantastical stories and images, when they no longer act as allegories, but become material, taking space in the world and making noise online?